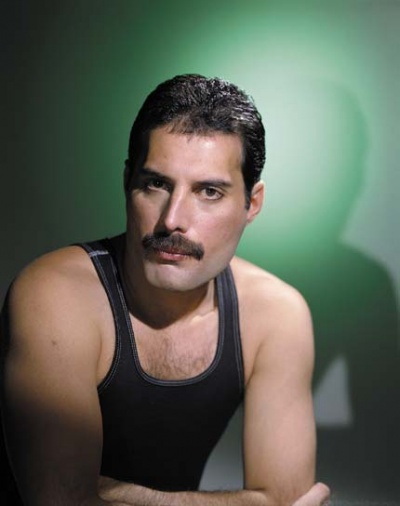 The late Queen frontman Freddie Mercury has been riding high on the Twitter charts today … but why?
Kajstring24
speculates, "
Freddie
Mercury
is trending, so one of 2 things could have happened. 1: he's died. 2: he's signed for Portsmouth."
Well, it's neither of those … I'll let
trudiescojesus
explain, "Adam Lambert Praises
Freddie
Mercury
, Says Music Today Lacks Flamboyant Male"
Ah, I see, so an American Idol contestant looks up to a real rockstar … hold the front page! I thought silly season was meant to be over?
Nevertheless, the trend has attracted many a witticism, including
stenotype
's classic, "The late
Freddie
Mercury
trending on Twitter. A Kind of Magic, eh?" Very good, well done.
And
Paulsamityville
sums it up for me, by stating, "
Freddie
Mercury
is trending good finally someone who was immensely talented is getting talked about."
Elsewhere, Priority Inbox is trending hard after Googleshow off their new email system … and by the sounds of things, it's rather good.
Mashable
say, "Gmail
Priority
Inbox
Launches: Your E-mail Will Never Be the Same" and a similar sentiment from
TechCrunch
who tweet, "Gmail
Priority
Inbox
Sorts Your Email For You. And It's Fantastic."
Scottschulthess
pitches in with an excitable, "
priority
inbox
is the new hotness" and
tbrown
sums things up by stating, "Gmail's new
Priority
Inbox
is awesome"
Great, well I'm glad that's all sorted out.
Finally, a bit of sport for you as Carlton Cole hits the micro-blogging headlines with the news that "West Ham are considering an offer from Liverpool for
Carlton
Cole" …
thanks to
SkySportsLive
for that.
Kingkenny_7 muses, "
Having
Carlton
Cole
as back up for Fernando Torres is like Brad Pitt having Anne Robinson as back up for Angelina Jolie." And
Liverpool_FC
say, "Whoa there.. Ryan Babel + money for
Carlton
Cole
?! Has Roy built up some big gangster debts in London he's paying off?"
However,
Rajkaria
is sceptical about the whole business, tweeting, "
Carlton
Cole
to Liverpool unlikely. Approach dismissed by West Ham United.